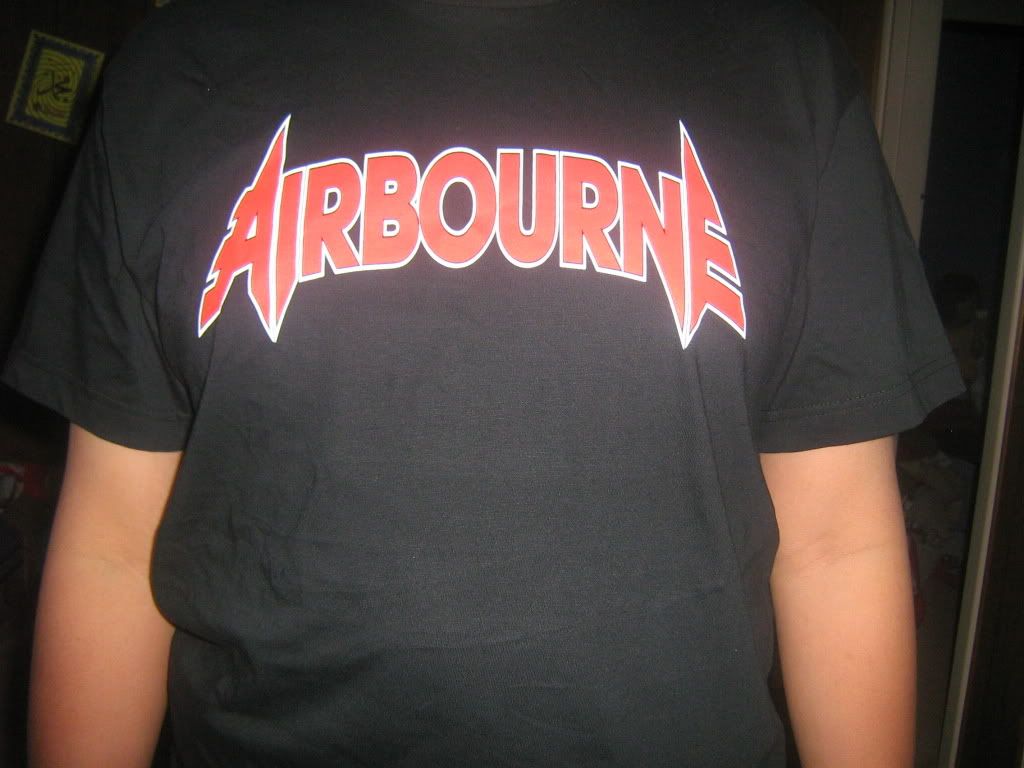 AS LONG AS WE LIVE, AND AS LONG AS YOU PEOPLE LIVE... ROCK N ROLL WILL NEVER DIE!!!
Begitulah jeritan
Joel O'Keeffe
kepada penonton pada lagu terakhir mereka. Dari start sampai habis beliau mengetuai kumpulan yang berasal dari Warrnambool, Victoria ini dengan penuh aksi. Aksi bukan main-main ni. Hampir sejam persembahan mereka, takde seorang pun yang duduk diam! Kata orang Ipoh, ini band menggelejat. Naik-naik atas stage terus rockin takde intro apa-apa dah... sampai habis pulak macam tu... gila... gila...
Aku tak berapa familiar dengan lagu-lagu dalam album
Runnin' Wild
mereka (sebab takde CD lagi) tapi dua lagu paling familiar yang berputar di youtube;
Too Much, Too Young, Too Fast
dan
Runnin' Wild
dapat ku tangkap. Lagu pertama mereka pada malam itu,
Stand Up For Rock 'N' Roll
memang terus bagi semangat kepada crowd.
Headbanging dan windmill gitaris
David Roads
dan bassist
Justin Street
bisa menjeleskan Cannibal Corpse maupun band brutal Death Metal walaupun
AIRBOURNE
sebenarnya adalah band rock n roll yang mendapat inspirasi penuh dari
AC/DC
. Aku amat terhibur tatkala
David
berlari ke arah
Justin
dan melakukan hayunan gitar secara synchronized.
Joel
seumpama bayangan Angus Young disebabkan gaya solo gitarnya yang sangat berbau Angus. Ditambah pula dengan fizikalnya yang kecik molek menambahkan iras beliau kepada Angus.
Selain dari persembahan yang sangat energetik aku juga 'terhibur' melihat gitar pujaanku
GIBSON Explorer
menjadi pilihan
David
dan
Joel
walaupun
Joel
hanya menggunakannya untuk dua buah lagu sebelum bertukar kepada
GIBSON SG
.
Justin
pula memilih untuk menggunakan
Fender
bass (tak tau apa jenis). Melihatkan full stack
Marshall
yang terbina di belakang begitu memberi semangat. Sound
Joel
lebih treble (disebabkan selain dari vokal/gitar, beliau juga menyolo kesemua lagu) dan
David
lebih bassy.
Ini adalah farewell gig
AIRBOURNE
yang mana dikhabarkan mereka akan berhijrah terus ke USA selepas menandatangani kontrak bersama
Roadrunner
. Dan aku bertuah kerana dapat melihat mereka sebelum mereka menjadi gergasi seperti rakan senegara mereka;
THE JET
dan
WOLFMOTHER
.