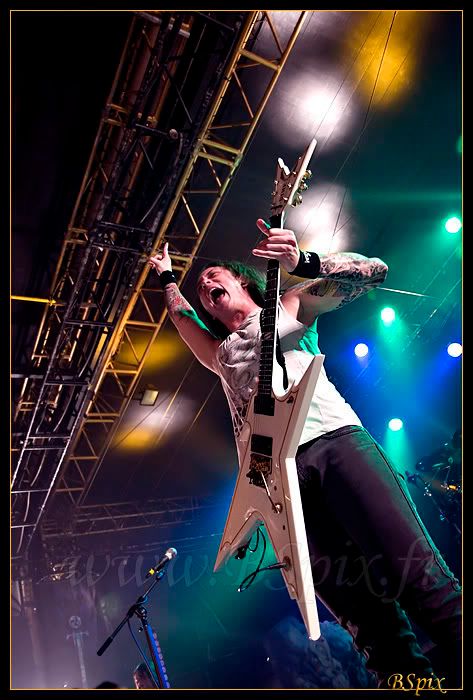 Perbalahan (kutukan) berat sebelah telah terjadi di dalam forum
METALTERUS
mengenai genre muzik ini. Berat sebelah kerana majoriti yang berbahas di dalam forum tersebut, lahir-lahir je dengar muzik Metal (hehehe...).

So sebelum apa-apa, mari tengok definisi dari wikipedia.


"Metalcore is a musical fusion genre that incorporates elements of thrash metal, melodic death metal and hardcore punk. The term is a portmanteau of metal and hardcore punk. Due to the rise in popularity in the United States during the early 2000s the genre is also described as the New Wave of American Heavy Metal (as an allusion to the New Wave of British Heavy Metal of the late 1970s).

It is rooted in the crossover thrash style developed by bands such as Suicidal Tendencies, Dirty Rotten Imbeciles, and Stormtroopers of Death in the mid-1980s. Through the 1990s, metalcore was mostly an underground phenomenon, but by 2004 bands like Killswitch Engage and Shadows Fall were present on the Billboard album charts. Some notable bands in modern metalcore are Hatebreed, Killswitch Engage, As I Lay Dying and Shadows Fall."

Aku, sejak beberapa menjak ni cuba nak mengelak dari melabelkan sesuatu muzik ini kerana sedang mahu berpegang kepada prinsip, a good music is a good music, regardless of the genres. Tapi genre itu penting sebab kalau orang tanya

Bob Marley

main muzik apa? Kena jawab juga, reggae. Kalau tak tak terjawab le ye tak?

Mungkin skop tu boleh diperkecilkan ke dalam genre METAL. Mungkin dulu lebih mudah kerana Metal secara amnya boleh dikategorikan sebagai Heavy, Thrash, Death dan Black Metal. Namun terima kasih kepada band

D.R.I.

, terma crossover menjadi sebutan ramai, malah terma crossover tersebut telah dijadikan asas pembikinan muzik sesuatu band.

Apa itu crossover? Crossover bermaksud, percampuran bentuk (slanga) muzik ke dalam muzik. Dalam skop

D.R.I.

, mereka telah mencampurkan muzik Hardcore bersama Metal, di dalam album Crossover mereka.


Mungkin bertolak dari itu, terma Metalcore muncul walaupun tak sehebat sekarang ini.

Namun pada zaman ini terma Metalcore menjadi lebih berkecamuk dengan percampuran pelbagai jenis slanga Metal. Bukan berhenti dengan Metal dan Hardcore tetapi telah masuk kedalam sub-genre Metal yang lebih kecil, seperti Thrash Metal + Hardcore ataupun Black Metal + Hardcore.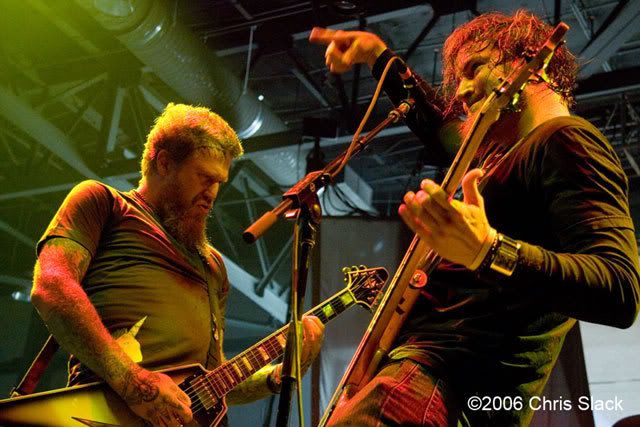 Ini semakin memeningkan kepala terutama mereka yang berkeras dengan definisi genre slanga Metal. Pada golongan ini,

purity

genre harus dikekalkan.

Bertolak dari itu, purity genre Metal itu seterusnya telah dilihat dari segi 'pembawakan' band tersebut. Ini boleh dilihat dari segi 'fesyen' yang dipakai dan 'asal' keturunan sesebuah band tersebut. Contoh terbaik ialah band

TRIVIUM

, yang walaupun album mutakhir mereka hampir menyerupai band Metal yang sebenar tetapi 'asal' keturunan mereka dan 'fesyen' mereka tidak begitu.

Begitu juga dengan band

MASTODON

yang kalau didengar beberapa album murakhir mereka, hampir genreless. Ini menggambarkan betapa berkecamuknya crossover yang mereka lakukan dalam album-album tersebut. Namun disebabkan 'asal' keturunan dan fesyen yang dibawa, mereka masih dilabelkan sebagai Metalcore.

Metalcore pada golongan elitist Metal bersamaan dengan golongan bawah yang dikeji dan dijauhi.

Pada aku, aku cuba berpegang kepada prinsip yang aku nyatakan sebelum ini. Sesuatu trend tidak mengubah sedap atau tidak sesuatu lagu. Tetapi bagi golongan elitist ianya berlawanan. Ketepuan sesuatu genre muzik terjadi dalam setiap jenis muzik, bukan sahaja di dalam Metalcore. Contohnya, brutal Death Metal suatu masa dahulu. Ataupun simfonik Black Metal yang tak berapa lama lalu.

Tetapi ini tidak boleh dijadikan alasan untuk mengkritik bands yang outstanding seperti

MASTODON

(satu nama, sekadar yang aku ketahui) semata-mata disebabkan genre yang pernah dilaluinya.