Rented house aku di Adelaide ni ada 3 bilik semuanya. Dua bilik telah dijadikan bilik tidur dan satu lagi bilik aku jadikan bilik study (kunun). Sekarang ni banyak masa aku kerja dari bilik aku ni. Mungkin sekali-dua je pergi Uni untuk jumpa supervisor. Supervisor aku walaupun gila strict (tiap-tiap minggu nak ada meeting) tapi other than that dia tak kisah samada aku dok kat ofis ke atau kat rumah. Janji buat kerja. Yeahooo...
So bila boring (pening kepala) dok godek program aku tu, gitar ada kat tepi tu apa lagi... hahahah... Ataupun sambil godek-godek, pasang CD from my collections (note: walaupun nampak banyak CD tu, tapi balik-balik aku dengar Iron Maiden, Megadeth hahahah... yang lain-lain tu menyemak je... sape nak beli sila layari
sini
?)
Moh kite, nengok bilik pertapaan teman! (Mau gambar besar, sila klik pada imej)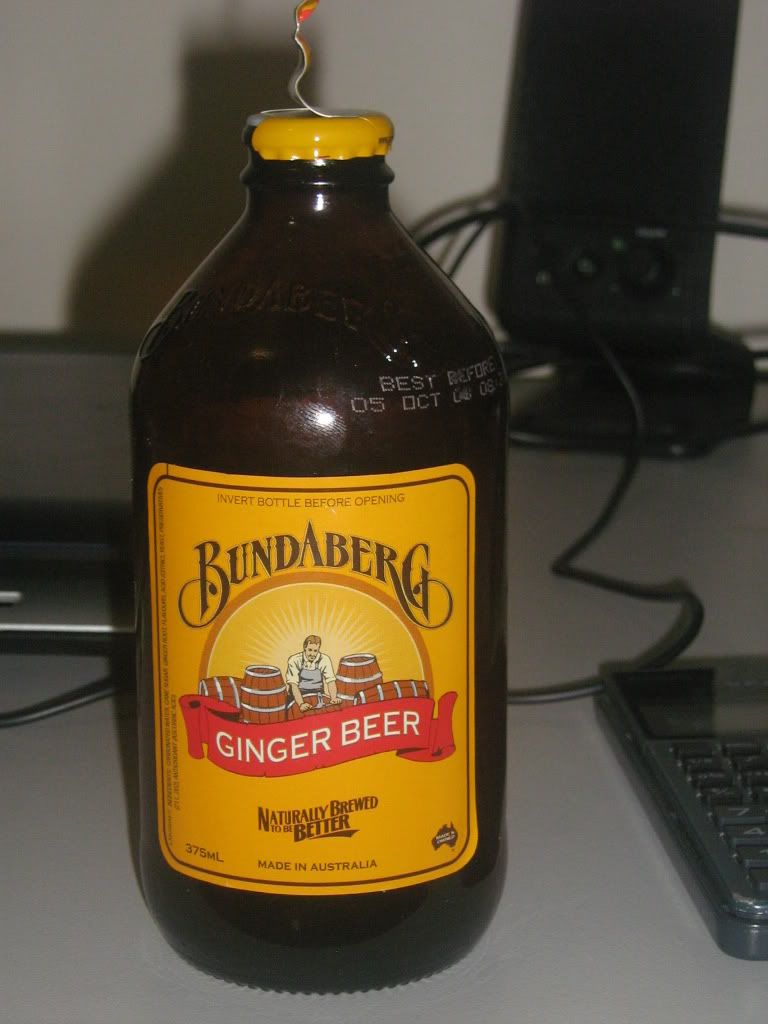 Rajah 1: First of all, aku kena introduce kat korang ini punya nikmat. Gila best ginger beer ni. Dia punya strong point kat label ada tulis suruh tengok botol ni dengan cahaya, akan kedapatan kerak-kerak halia yang terawang-awang dalam airnya. Minum kalu memang best. Don't worry walaupun tulis beer, tapi bukan beer. Halal dan harus diminum!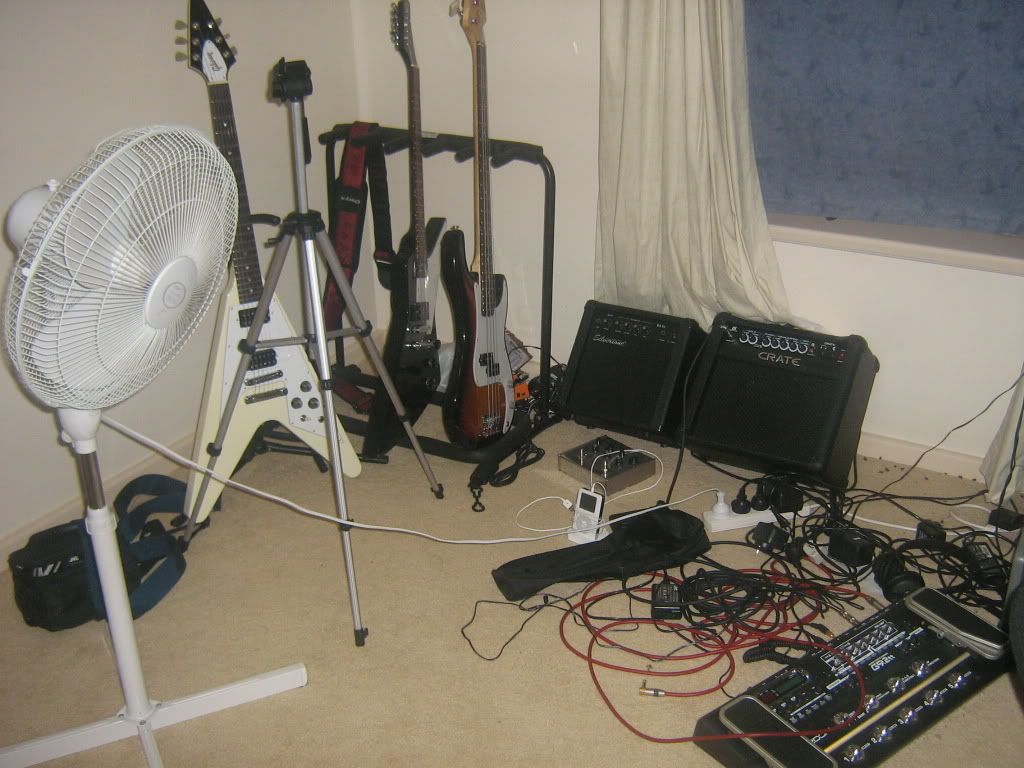 Rajah 2: Once masuk dalam pintu, toleh ke kiri, disitulah aku dump semua instrumen muzik aku. Semua dibeli kat sini from different sources. So let me introduce (left to right):
1. Kipas angin - bukan instrumen - dibeli kerana musim panas ni gila punya PANASSSSS!!! Tips untuk elak panas dalam rumah, tutup semua tingkap dengan langsir supaya cahaya tak dapat masuk.
2. GIBSON Flying V - beli from a used guitar seller from eBay. Gitar ni best. Boleh posing sambil hayun gitar ke atas!
3. GIBSON Explorer - beli from a used guitar seller from eBay. Gitar ni kalau main londeh, boleh berangan macam Pitrelli (ex-Megadeth) atau Hetfield hahahah...
* note antara dua gitar ni, Flying V pada aku bunyi lagi heavy.
4. SX P-bass - beli kat kedai sini. Murah je tapi not bad dia punya playability dan finishing.
5. amp bass - beli sekali dengan bass tu. Entah apa jenis, dan tak peduli hahaha...
6. CRATE 15W amp - kecik je power. Tak leh power-power nanti jiran bising. OK la buat nak praktis.
lepas tu efek-efek, sila refer rajah di bawah.
Rajah 3: Left to right juga...
1. VOX Bulldog Distortion - tube technology. Sound memang garang dan harsh. Tapi dia punya clean very transparent. Bought new from CK Music (KL) daa...
2. iPod 40GB 5th Gen - aku beli yang refurbished punya. Harga 50% from retail dan ada warranty setahun. Dah jahanam sekali, hantar ke service dapat tukar brand new. Ada lagi 3 bulan warranty.
3. ZOOM G9.2tt - haaaa ini efek best. Tapi tak habis godek. First of all, presentation memang cun. Nampak sasa dan gagah sekali. Boleh direct rekoding to PC sebab ada USB connection.
Rajah 4: Selepas pandang ke kiri, sikit toleh ke kanan maka nampaklah meja dan kerusi aku tu. Dua-dua beli 2nd hand kat garage sale . Kelihatan notebook beli new kat sini merangkap notebook buat kerja Uni dan juga untuk rekod lagu. Sebelah kiri tu ada CDman, beli used juga kat garage sale. Speaker beli baru. Then belah kanan notebook tu external hardrive aku buat backup untuk kerja Uni dan juga segala macam backup (no pirated mp3 inside hahaha). Kelihatan sayup-sayup stack of DVD yang aku dah tengok tapi malas nak kemas.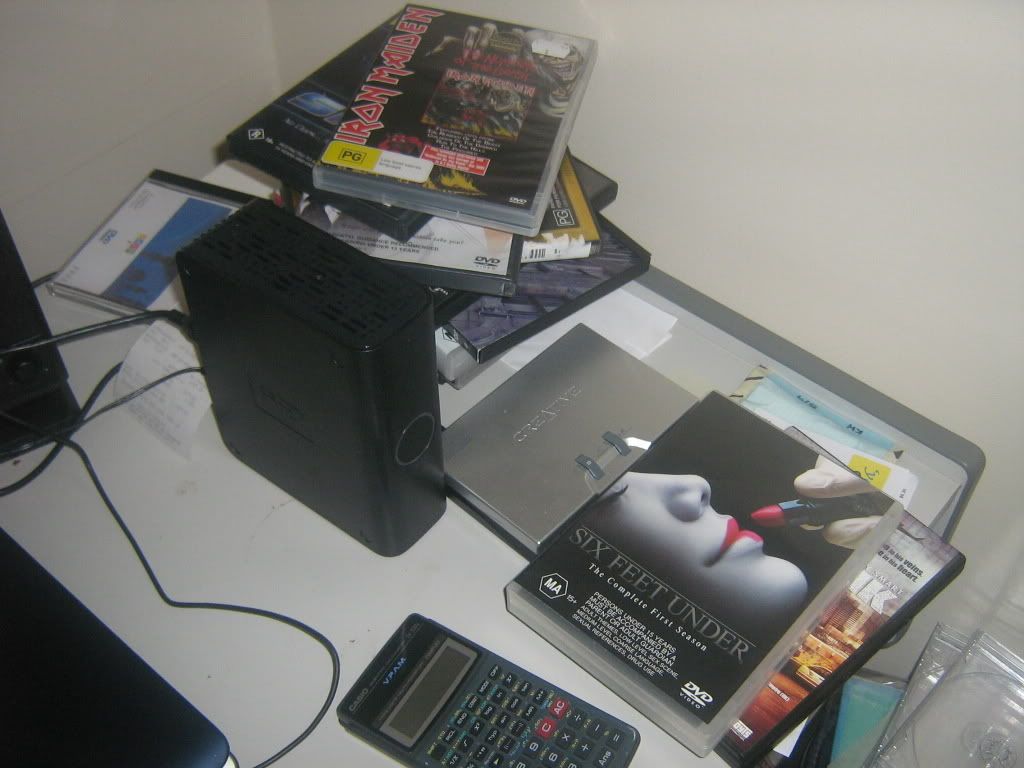 Rajah 5: Close up pada 'sayup-sayup' di Rajah 4. Calculator tu berkurun dah lama. Sayang gila. Kalau hilang/rosak takde ganti dah. Then tu Six Feet Under DVD Season 1. Me and my other half tengok after anak-anak dah tidur. Cerita memang gloomy habis tapi best.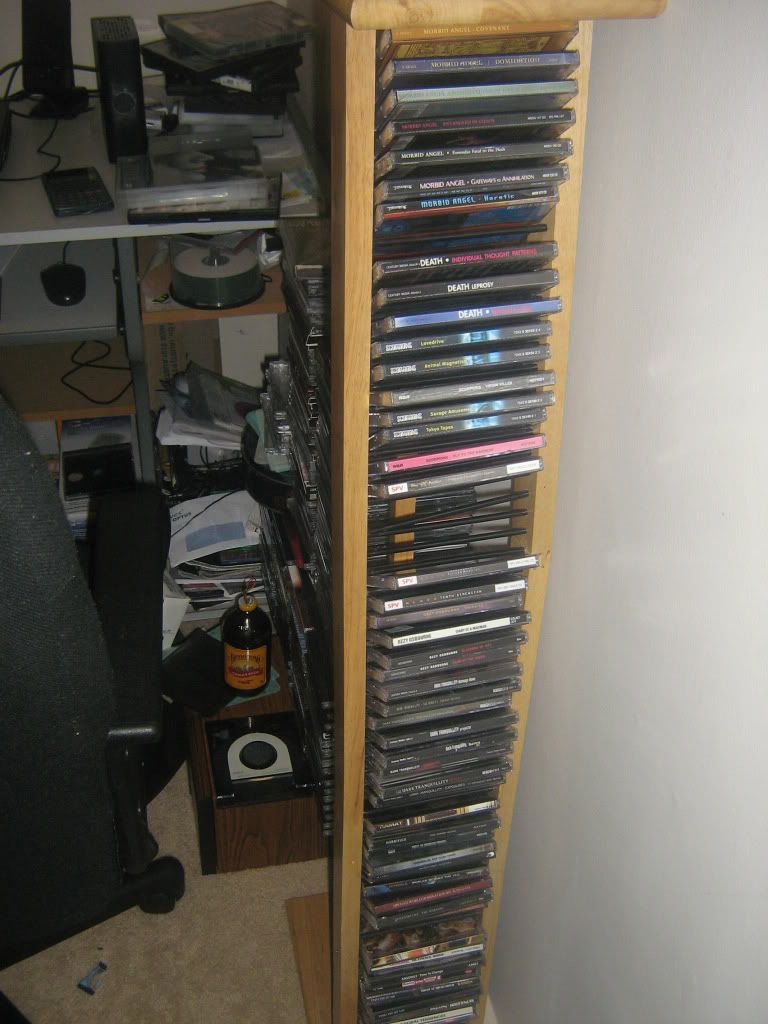 Rajah 6: Stacks of 'non-priority' CD. Consists of discography (incomplete) of Dark Tranquillity, Death, Scorpions etc. Rack tu beli used jugak from garage sale.
Rajah 7: Lastly koleksi Iron Maiden tersayang. Tak banyak pun. Yang tu nampak muka Eddie dalam album first ada koleksi dari 'enhanced' CD. Aku masih mencari lagi. Lu orang kalau ada IRON MAIDEN CD mau tolak/trade, kontek sama aku OK?
notes: masa aku datang Adelaide ni memang aku ada 1-2 CD je. Dan tak beli CD pun. Sekali Uni sudah offer jadi part-time tutor, supervisor... so bayaran pun agak OK... apa lagi, kolek balik la huhuhu... (takpe nanti boleh jual balik - nak sedapkan hati).